Inada Dreamwave Full Body Massage Chair equipped with 3D body scan, S-Track design, back & seat heat, back vibration massage, body stretch and a lot of other options. Made in Japan.
Avaibility

Ask our sales agent for availability

Warranty

3 years

Shipping

Ask for shipping in United States

Producer

Inada
Request our Special Price
| | | | |
| --- | --- | --- | --- |
| 3D massage rollers | Children's programs | Zero Gravity system | Heating System |
| Made in Japan | Preliminary scanning system | Children's programs | Shiatsu massage |
Dreamwave
Designed after many years of research and testing, and with the efficient collaboration between skilful Japanese engineers and experts in Oriental massage, Inada Dreamwave can indeed offer you the massage of your dreams, so no other name could have been more appropriate than "sogno", the Italian word for dream.
Exceptional Design. Therapeutic Effects.
Inada DreamWave redefines the concept of massage chairs by combining ancient oriental therapeutic methods with modern design.
Extended massage area.
Providing an extended massage area and offering a large variety of carefully designed automatic programs, this model guarantees full relaxation and a strong therapeutic effect.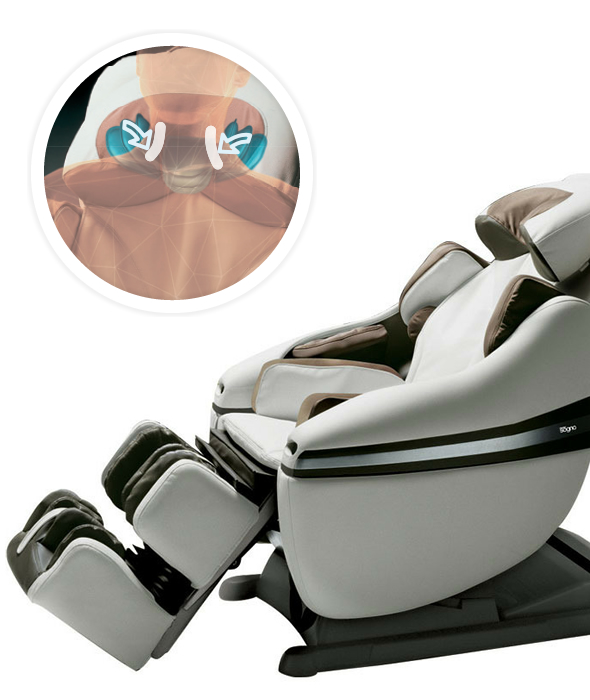 Discover the most important functions of the Inada Dreamwave
Shugi ("therapist's touch") Stretching – Kneading Function / Shiatsu
The Shiatsu stretching-kneading airbag system represents the first function in the industry that combines neck and shoulder massage. The system pulls the neck from both sides and then the headrest airbags apply direct pressure on Shiatsu points. This action is meant to remove muscle stiffness resulting from lack of exercise or sitting in the same position for a long period of time.
Full Arm Massage Function
This massage chair is provided with the first air pressure massage unit for the whole arm in the industry. Twenty airbags massage the upper part of the arm, the forearm and the fingertips. This makes for a complete kneading massage, from the joint of your shoulder to the tip of your finger. Experience a delicate massage fit for your body shape, by placing your arms and shoulder in the designed mobile units that can be adjusted to the sides.
Full Body Stretching Function
A new level of stretching. This massage chair offers a stretching program for muscles that are usually less used. This function stretches the body by bending the upper back, creating a similar sensation to full body stretching.
Swing Function
The new swing function simulates professional massage techniques. The new side press pushes on the pelvis activating the airbags inside the chair's seat, creating a swinging sensation. This program will help you relax even more after a regular massage program.
Massage Program for Adolescents and Young People
This new program is destined for young people (14 and over). The reclining angle sets up automatically to remove muscle stiffness and allow young people to recover after daily fatigue. This massage programme is less intense, providing a delicate sensation in order to reduce the stress which young bodies are subjected to.
55 Shiatsu Points
Equipped with an air pressure system for neck and shoulders, the Inada massage chair offers you the comfort you expect. The airbag massage of 55 Shiatsu points distributed all over your body, ensures a delicate and thorough treatment.
Full Body
Approx. 15 min.
Basic massage program to reduce fatigue by massaging the whole body, using rollers and air pressure. This program helps reduce daily fatigue.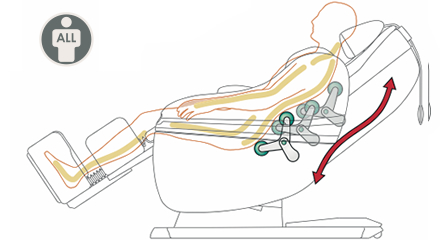 Full Body Air
Approx. 15 min.
Full body massage using airbags exclusively. It is recommended for people that do not appreciate the mechanical massage techniques.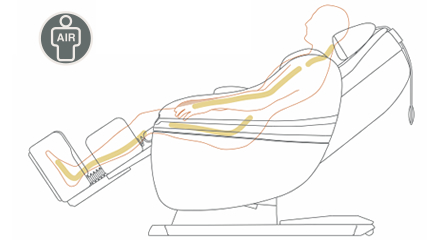 Swing
Approx. 15 min.
This massage program is recommended for persons who wish to relax. Activating this program after using any other function reinforces muscle balance.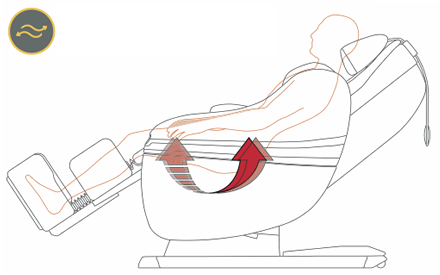 Youth
Approx. 8 min.
A much more delicate massage program, especially designed for young users (14+), allowing users to enjoy the therapeutic benefits on SOGNO, no matter their age. This low intensity massage program relieves muscle stiffness and reduces fatigue for young people with an active life, without putting much pressure on the body.

Strech
Approx. 8 min.
For the first time in the industry! This program extends the spine by using the full body extension function. Recommended for people who need to invigorate their body.
Optic Sensor for Shiatsu Pressure Points
Shiatsu pressure points that differ from one person to another are automatically identified by INADA's optic sensor. Before selecting a program, make yourself comfortable in your massage chair and relax. When selecting the desired program, Inada will scan your back and will compare your profile with the 106 profiles stored in its memory. The massage chair will adjust to your body shape immediately to offer a personalized massage. Although Shiatsu points differ for each body structure, this massage chair automatically identifies them by using the optic sensor. Identifying Shiatsu points ensures a more comfortable and efficient massage.
Quick
Approx. 8 min.
This automatic program offers a quick massage for people who have little time in the morning or in the evening, or for people who need to relax for a few minutes. It is recommended for quick recovery from fatigue.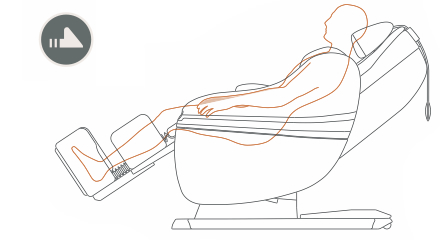 Morning
Approx. 15 min.
This automatic program uses the centripetal massage – a technique working its way from the exterior towards the centre. Recommended for people who have difficulties in waking up in the morning or feel tired after a day's work. This is the invigorating program.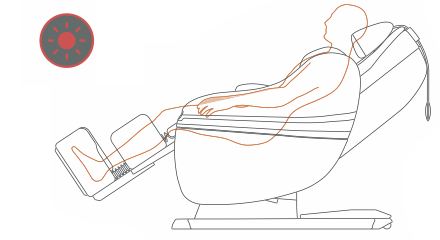 Night
Approx. 15 min.
This automatic program uses the centrifugal massage – a technique working its way from the interior towards the exterior. It's recommended to remove the fatigue of the day before, before bedtime. This is the recovery program after the fatigue accumulated during the day.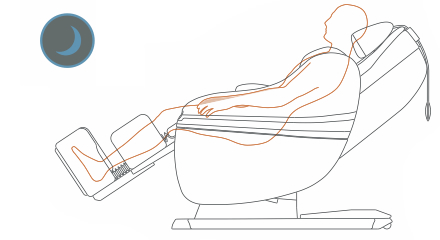 Personalized Massage Programs
Along with the automatic programs that can be selected with the help of the controller, Inada manual programming is available, allowing you to create hundreds of massage combinations and also to precisely adjust and personalize the massage type.
Neck and Shoulder (Shiatsu, Stretching and Kneading)
Lifts the neck from both sides to massage muscles by stretching and kneading.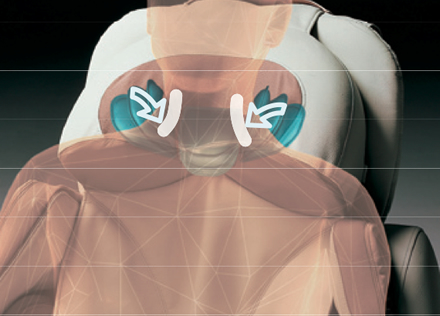 Shiatsu Shoulder Massage (Shiatsu Variation)
Incorporated airbags apply direct pressure on shoulder Shiatsu points, using firm air pressure to massage them and simulating human hand kneading.
Shoulder Roller Massage
The rollers provide a deep massage when shoulder pads are lifted.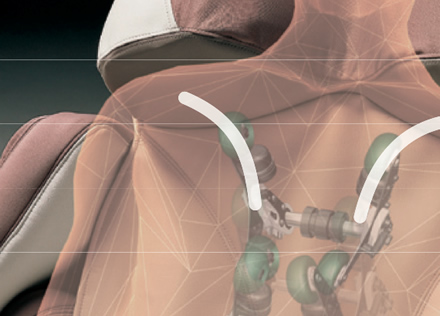 Arm Massage (Full Massage Function)
The arm airbag units provide a deep massage from the upper shoulder to the tips of your fingers. Your arms will feel invigorated and you will lose the fatigue sensation.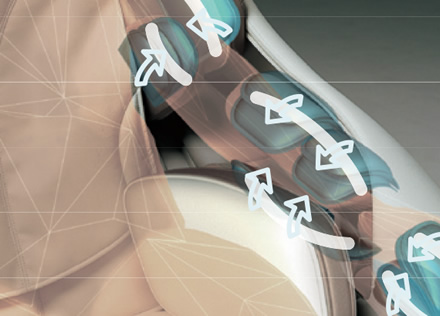 Back Roller Massage
Through the unique massage functions of the INADA massage chair that provide circular kneading massage (Tapping/Rhythm Shiatsu, Hand Kneading/Double Kneading) we are getting closer and closer to the techniques used by professional massage therapists.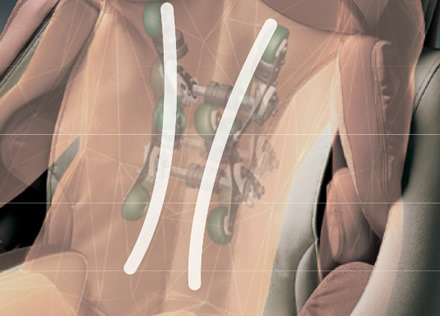 Hip Massage (Air Shiatsu)
This mechanism massages both sides of the pelvis reducing fatigue on hips and buttocks.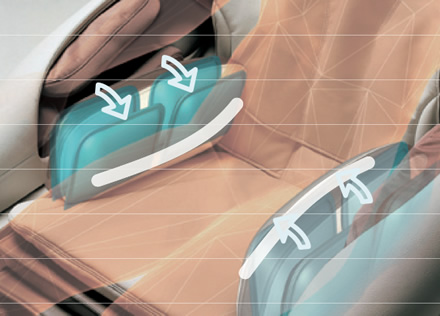 Air and Vibration Buttocks Massage
Air pressure creates a swinging sensation to relax and massage your body, while the vibrations make for a comfortable stimulation.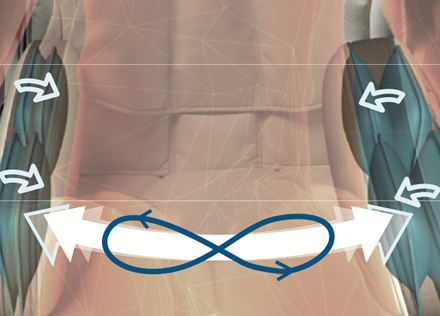 Lower Back Massage (Roller and Air Shiatsu)
Air and rollers massage your muscles firmly. Rollers can reach very low areas on your back.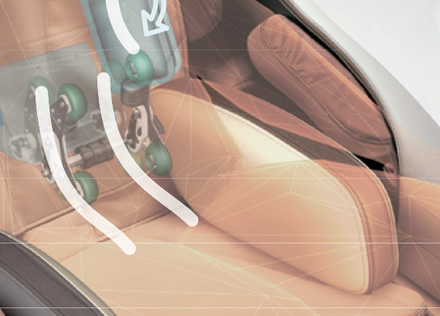 Feet and Soles Massage (Air Shiatsu)
Air Shiatsu massage for feet and soles.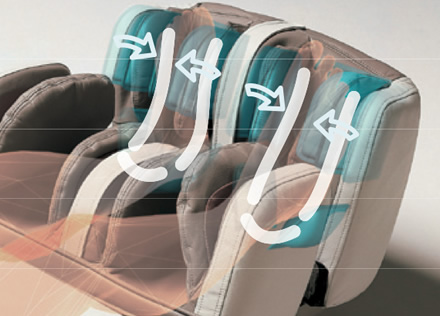 Calf Massage (Air Shiatsu)
Airbags provide a firm massage for Shiatsu points to the back as well as the sides of your calves. Recommended to people who experience fatigue in this area after long periods of standing up.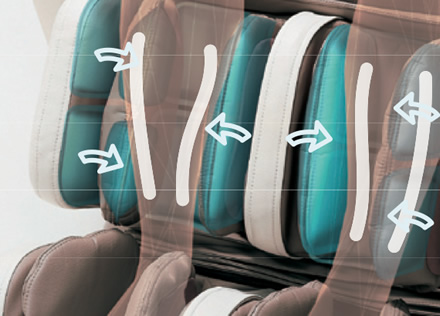 Inada Dreamwave Massage Mechanisms
4 mobile roller units and Ultra-Slow System
These roller mechanisms were designed to ensure comfortable and stimulating massage to muscle Shiatsu points, from neck and shoulders to lower back. Roller pressure is distributed between 4 points, offering a delicate kneading massage, with no excessive stimulation and without creating discomfort. By using the Ultra-Slow System for a delicate massage the result will be similar to a massage provided by an experienced massage therapist.
Airbag pressure mobile mechanism. 3D Massage.
Using air to adjust roller pressure ensures a delicate and comfortable massage.
3D Massage - an INADA patent. The moste efficient rollers system
Rollers lift approx. 7 cm to provide a thorough back massage.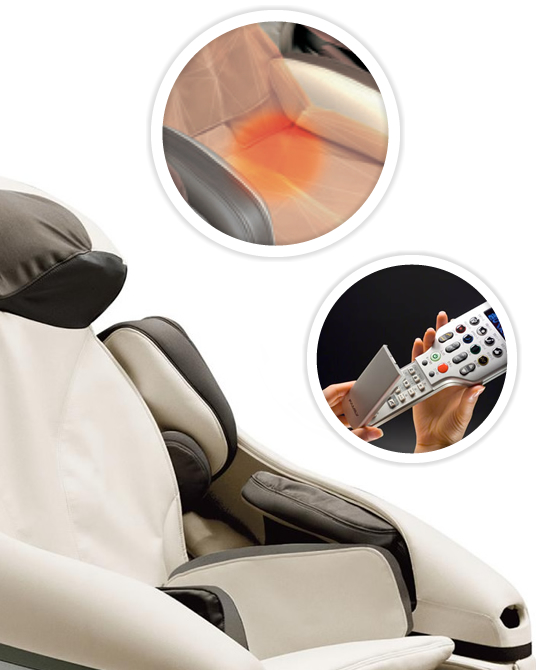 Heaters for Back and Seat.
The heating system emphasises massage efficiency, reducing cold sensation during winter or inside air conditioning cooled rooms during summer.
With this incorporated heating system, the Inada Dreamwave massage chair owns the best technology in the world, revolutionizing the entire massage chair market.
Massage Area
Rollers cover an area of approximately 72 cm up-down, the upper roller's lateral movement covering approximately 5-19 cm, and the lower roller approximately 9-16 cm. Roller movement allows for an adequate and efficient treatment for the muscle and Shiatsu points.
The most awarded massage chair in the industry
Patent for Inada DreamWave massage technique
The delicate 8 shaped movement simulates techniques applied by massage therapists during Shiatsu massages.
Patent for shoulder massage technique
Patented function for massaging neck and shoulders – offers a profound massage on neck and shoulder and (extraordinary!) allows a delicate stretch of the neck.
Patent for "Full Arm Shiatsu" technique
Through this Shiatsu unit, 20 air units provide a massage with successive, rhythmic and relaxing movements, designed to invigorate the entire arm, from the tip of your fingers to your shoulders.
Patent for hip and waist massage technique
By applying a delicate profound pressure it has a relaxing effect on large muscles.
Patent for the most efficient and complete stretching function
This function provides the extension and flexing, as well as slight rotation for the shoulder, waist and hip.
Health Care Programs
16
Manual Mode
Yes
Back 3D Mechanism
Yes
Reclining Angle
Approx. 120° - 165°
Chair Cover
Ecological antibacterial leather.
Reflex Therapy
Yes
Air Intensity Adjustment
Low, Medium, High
Calf Massage
Yes
Massage Speed
Tapping: 3 levels 180-480/min
Rollers: 3 levels
Timer
Approx. 15 minute
Automatic Reclining
Yes
Program Display
Yes
Airbags
101
Foot and Calf Massage
Yes
Hand and Arm Massage
Yes
Hip and Waist Massage
Yes
Pelvis and Buttocks Massage
Yes
Accessories:
Shiatsu Pads for Shoulders
Buffer Pad
Smartphone pocket
Headrest
Yes
Chair Weight (kg)
115 kg (Main unit: 97 kg, footrest: 18 kg)
Rated Voltage
220 - 230V
Package
2 boxes: 86kg + 51kg
Accessories
Shiatsu Shoulder Pads
These Shiatsu shoulder pads allow for intense or delicate massage, to best suit your needs.

Buffer Pad
Adjust the intensity of the massage by placing the small or large buffer pad on the backrest.
Colours
Grey Slate or Beige

First Class Design.
Beige or Grey slate.
In addition to the extraordinary massage features of the INADA Dreamwave, you will discover the unprecedented elegant design of Toshiyuki Kita.
The world famous furniture design ensured the artist's presence at the permanent collection of the modern Museum of Art in New York, Georges Pompidou Centre in Paris and Pinkothed der Modarne in Munich.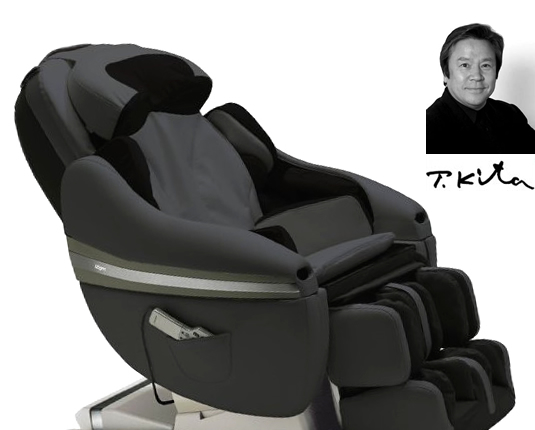 Request our Special Pricelist
FOCUS II - Experience the services of a restless massage specialist who masters 12 automatic programs and 6 massage tehniques
Discover the brand new FOCUS II
Customer Reviews about Inada DreamWave Massage Chair:
Excellent. Very pleased.
- from
Donna H. / Luxembourg
I removed the back pad last night (in fact, I folded it back over the back of the chair), and now the Dreamwave has done a great job on my back, the massage was great, and even though I turned down the intensity a bit, I could still feel the rollers on each vertebra and every little muscle, and finally I felt that the chair was doing a great job massaging my neck, so it is much better with the pad removed. I will be back with fresh impressions. Have a great day.
Very satisfied.
- from
Ivan A. / Serbia
The Inada Dreamwave massage chair is indeed a dream. I have not yet decided which of the eight preset programs is my favorite, all are sensational. To say nothing of the manual programs. I can only describe this chair in the following manner: at least five pairs of hands discover, knead, and press the entire body simultaneously, from the soles of my feet all the way to my palms. The intelligent shiatsu point locating system is incredible, as is the air bag massage. And since a massage cannot be perfect except if the temperature is high enough in order for it to heat up and relax the muscles, the chair's heating system takes care of this issue too. I am happy with my new purchase!
Extremely satisfied
- from
Katya / St. Petersburg, Russia
Thank you for your suggestion in connection with the Inada Sogno. I am more than satisfied with the massage chair. I feel great.
Satisfied
- from
Ewan Lw. / Netherlands
I bought this product with full confidence. The DreamWave massage mode is incredibly well conceived. I have two kids and they use the chair almost every day. The Japanese quality is evident from afar.
Average rating:
5
out of 5, based on
4
ratings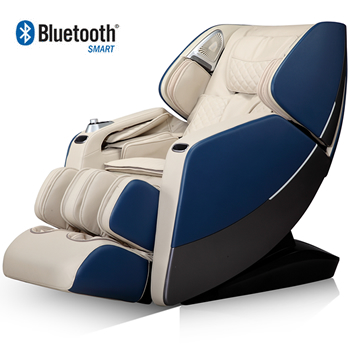 Komoder Veleta is the latest massage chair from the Komoder 2020 range. The massage chair has a long 137 cm massage range, offers back and foot heating and a full 3D massage. Choose Komoder Veleta at a Discount Price. Free shipping.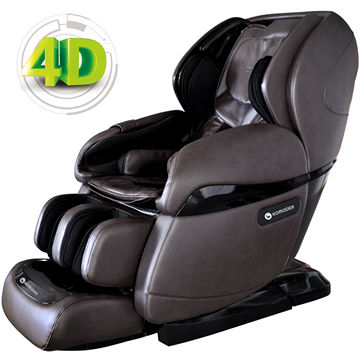 Luxury 4D Massage Chair with 8 heated back rollers, bluetooth, voice control, heating system for back and legs, 12 automatic programs.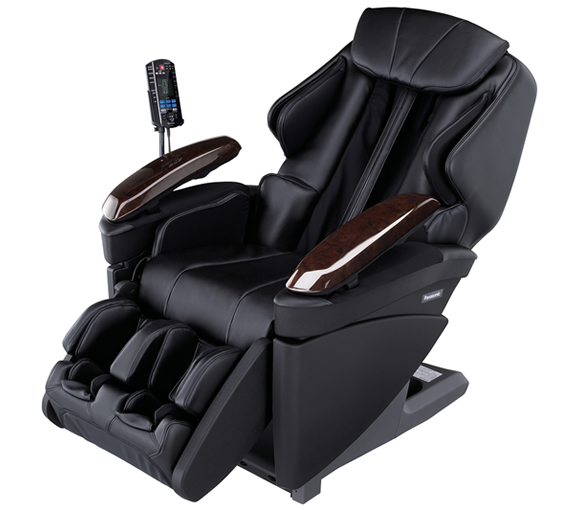 Panasonic EP MA70 massage chair with heating function, with 6 preset massage programs and 6 manual massage programs. The Panasonic EP MA70 offers Shiatsu massage and Swedish massage (rolling and tapping, and many other massage combinations). Free Shipping.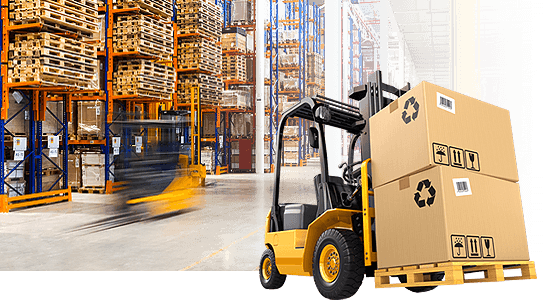 Proper Storage
We have more warehouses across the Europe
and we store your chair in perfect conditions.
Safe handling
The massage chair is loaded mechanically,
with love and care.

We provide free shipping
In most cases, we transport the massage chairs
in our own vehicles, using our employees.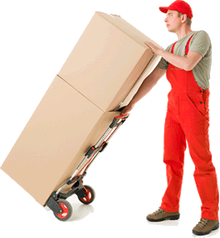 Handling and Assembly.
We have installed the chair.
Enjoy your massage!
Leave your details and we will call you as soon as possible.
Please fill in the form and one of our consultant will contact you as soon as possible to identify the model of the massage chair that fits your needs. Our specialist will take into account the height and weight of the future massage chair users.

Komoder Headquarters by Phone

Komoder Headquarters by Mail
CALL NOW
Request Our Special Price Now!