Best Massage Chairs in Europe. At Best Prices!
Free Shipping & Free assembly! Payment upon Delivery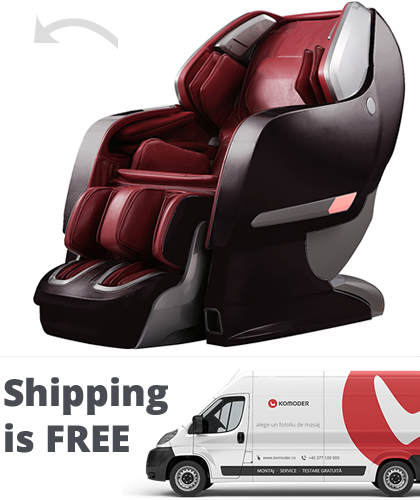 Shipping is free for our clients
Customers reviews:
It works perfectly!
- from Mr. Francis - Switzerland, November 2019.



"I well received the chair, it works perfectly, much better than the one I had previously."
Fantastic service!
- from Mr. Armando, March 2019.



"We received the chair early this morning. Fantastic service, thank you very much!"
Excelent! Thank you!
- from Mr. Gianni, March 2019.



"Everything has worked out as hoped; my wife is overwhelmed! It's a really tremendous massage chair. I will recommend you to all my friends when they see and experience it.
Thanks for your engagement."
Great! 5 stars for you!
- from Mr. John, May 2019



"It offers a complete massage, for the entire body. The buttocks massage function is very interesting. It is a heavy but complex product and it is worth every penny..."
Worth every penny. I recommend!
- from Mr. A. Wood, May 2019.



"This is a very good massage chair. I've tested massage chairs before, but they were a lot less efficient. It is a large chair and the black version looks really good. I belive I made the right choice. I am pleased."
"100% Satisfaction Guarantee"
100% satisfied
- from Mr. Andrew., December 2018.



"Japanese quality. Great back and leg/foot massage, great hip air massage. The whole family uses the chair every day."
Five Stars!!
- from Mr. Mark L., December 2018.



"Thank you guys for fast delivery. Great quality!"
Very satisfied. Recommended. Very Good price.
- from Mr. Frank, November 2018.



"I wanted the latest massage chair. I received my massage chair this morning. We want to thank you for everything. We have already tested it and we are very satisfied. It is very good. I will recommend you with full confidence to other people as well.."