KOMODER LUXURY 4D Massage Chair
Suffering from Lower Back Pain? This model is definitely for you!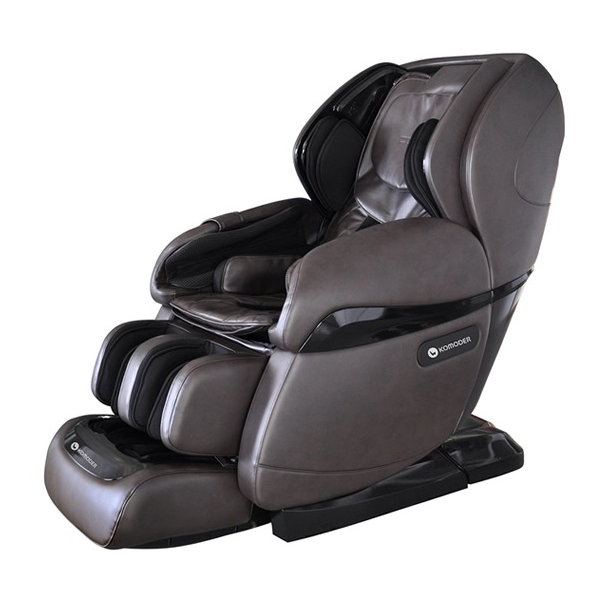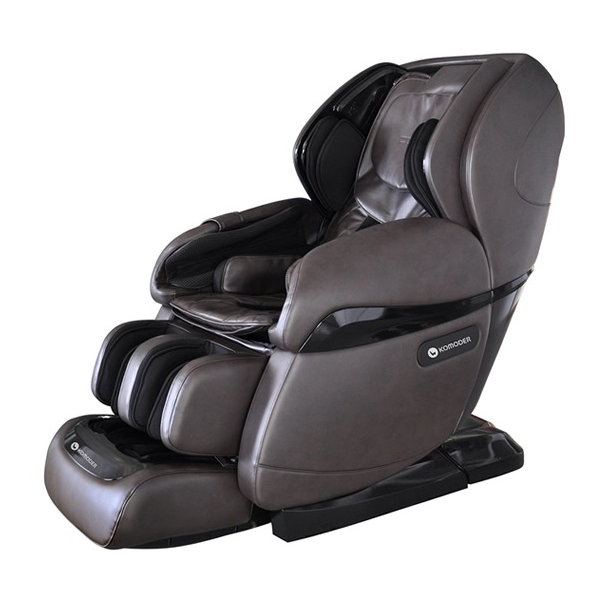 | | | | |
| --- | --- | --- | --- |
| 4D massage rollers | 8 massage rollers | Zero Gravity system | Back and lower leg heating |
| Smart mechanism | Slide system | Bluetooth | Voice control |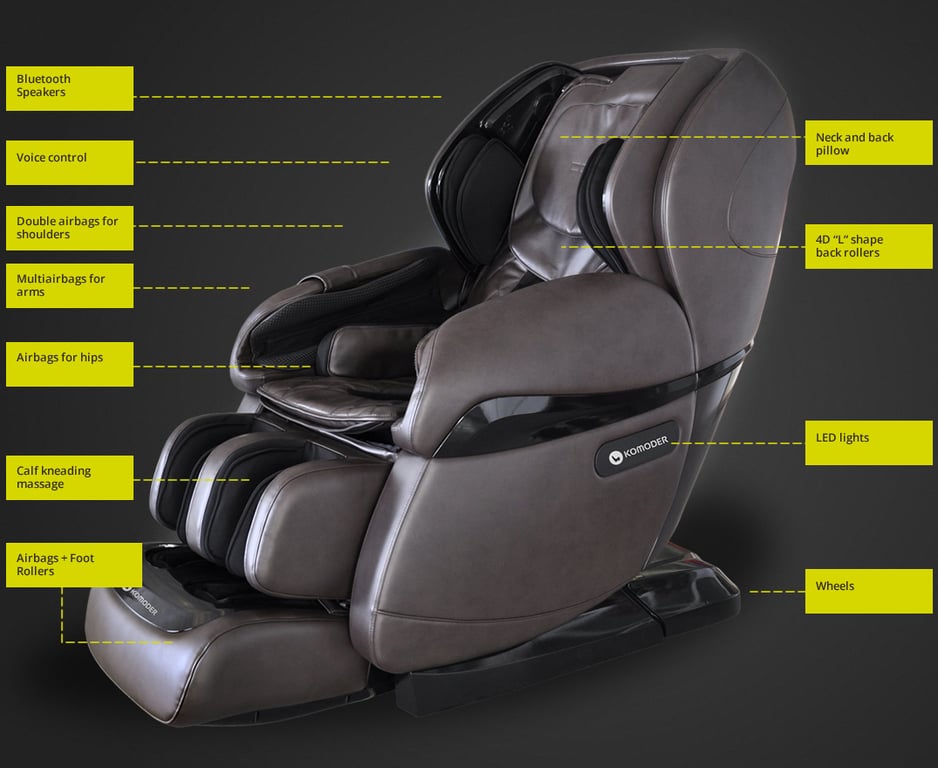 An effective massage starts with reflex therapy
The LUXURY 4D massage chair is equipped with a reflexology function, with triple rollers for feet massage. This function is perfect for nervous centers stimulation.
Reflexology is a must-have
We recommend using the reflexology function for individuals complaining about leg pain or individuals who spend many hours standing.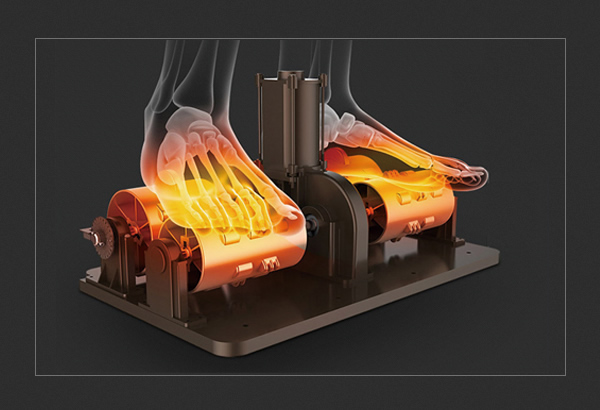 Therapeutic massage for different types of bodies
The massage rollers perfectly match the body curve. This is the beginning of the hyperspace massage age of massage chairs.
Full Body Air Massage (Arms & Shoulders, Back & Waist, Buttocks, Legs & Foot)
Going beyond the roller massage functions of the chair, LUXURY features a full-body air massage system. The chair is loaded with airbags that massage practically every part of the body from the head to the feet.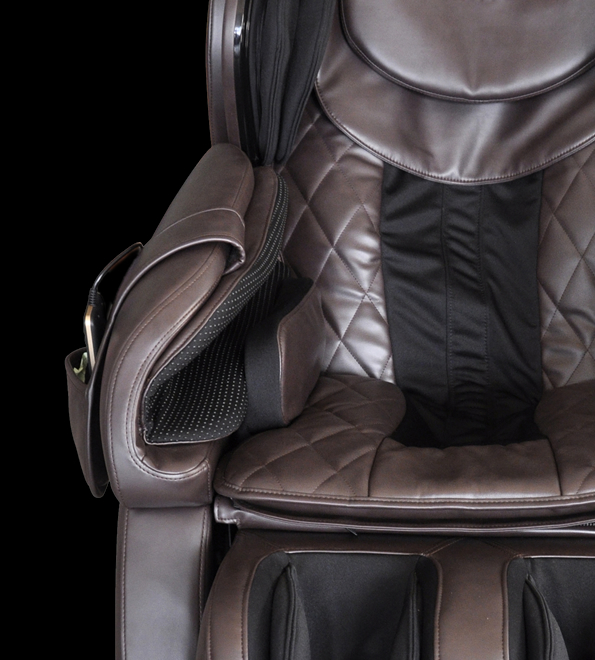 LUXURY 4D is equipped with an accurate scanning system
LUXURY is equipped with an automatic shoulder and neck localization system, which means it will scan your back before each massage session in order to detect the user's height and weight so that the massage session may be perfectly customized.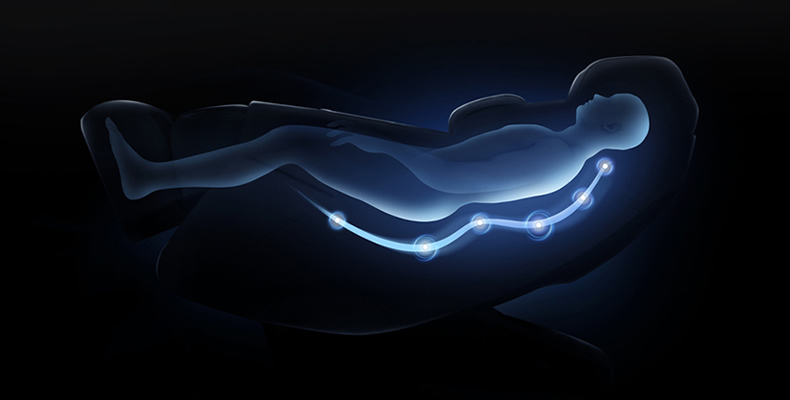 The chair automatically scans and adjusts depending on the user's weight and height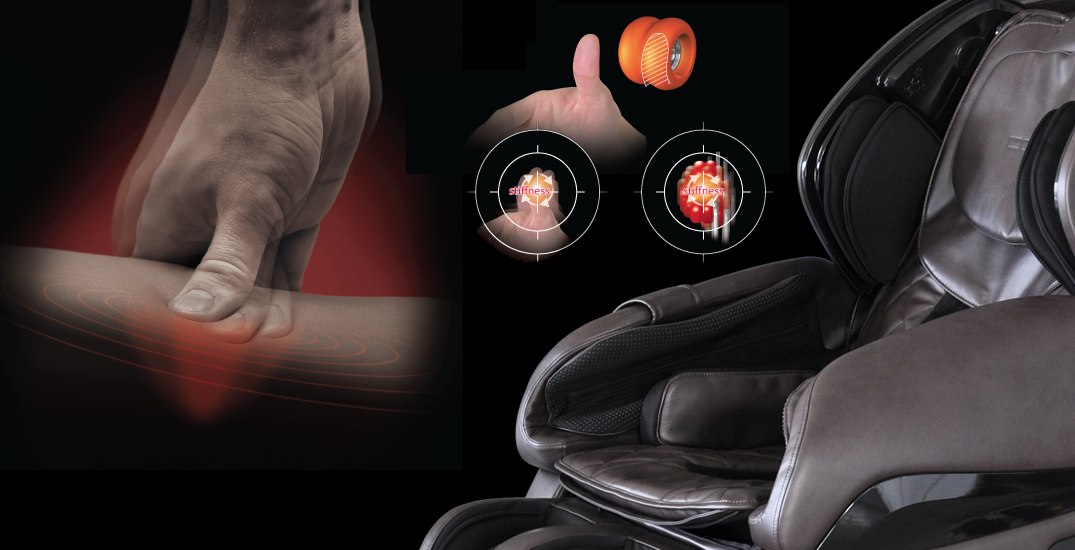 Heating for back and legs
Adding another dimension to LUXURY's already awesome massage therapy, a pair of heating pads in the backrest radiate warmth into the muscles. Heat therapy can be used as a standalone feature or added to any of the chair's automatic or manual massage programs.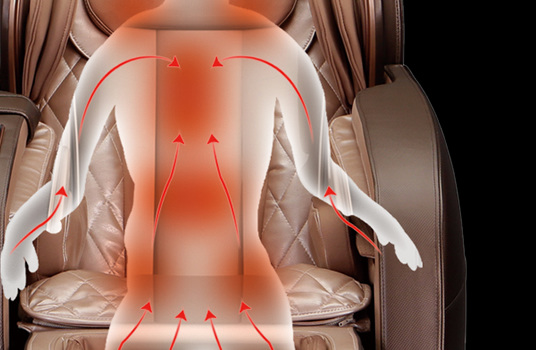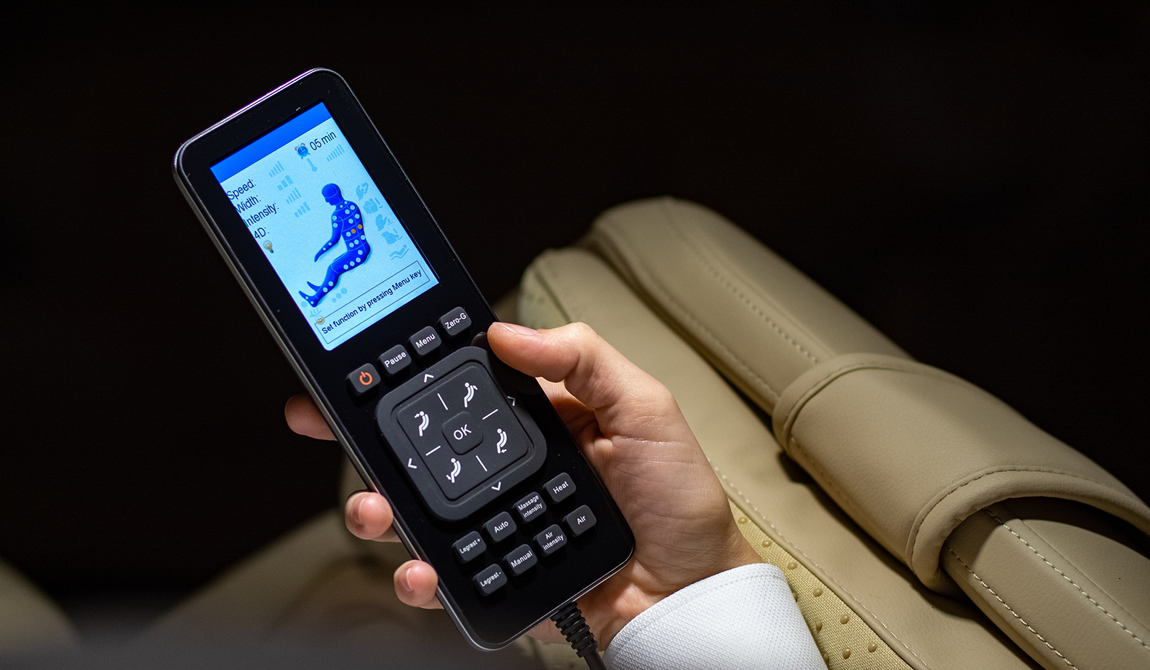 Zero Gravity and Space Saver functions
The dynamic shape of this massage chair was adopted in order to allow users to save space at home. This model is ideal for house, apartment, or office, and even for places with limited space. The Zero Gravity position is the most natural and most relaxing position for the body, in which the legs are positioned higher than the body itself, at an angle of 128º ± 7º, which maintains the body's functions at an optimum level.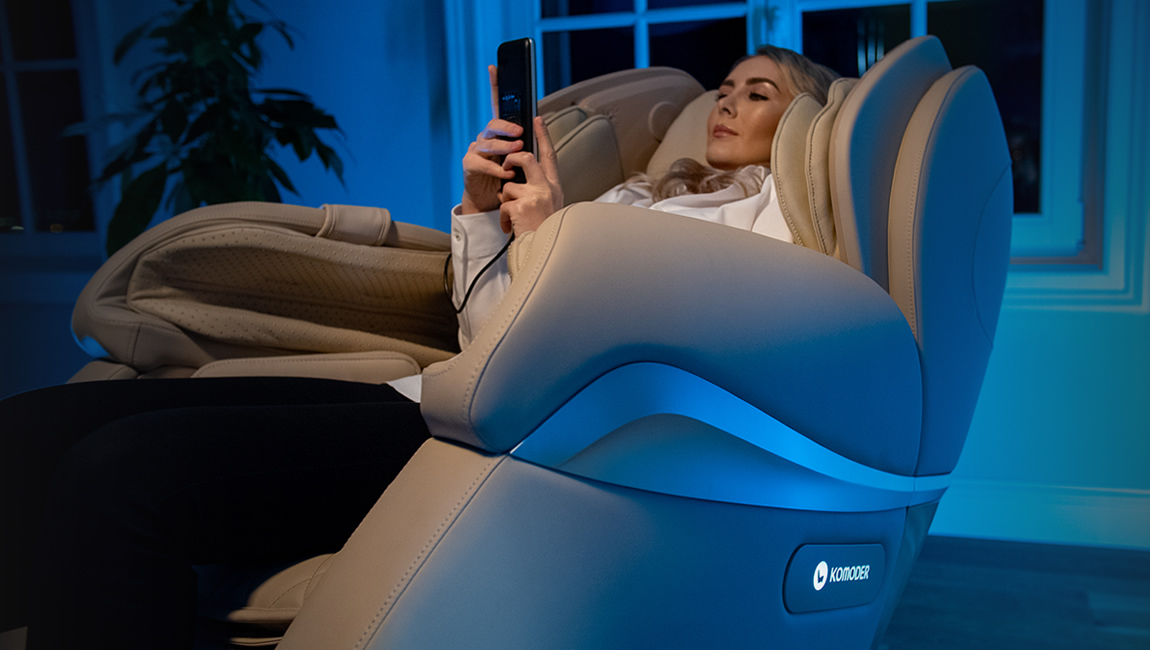 Smart function for space saving
The armchair has been developed for smaller spaces, since it requires only 5 cm from the back wall when the massage chair is operating. The chair seat will slide forward without touching the back wall.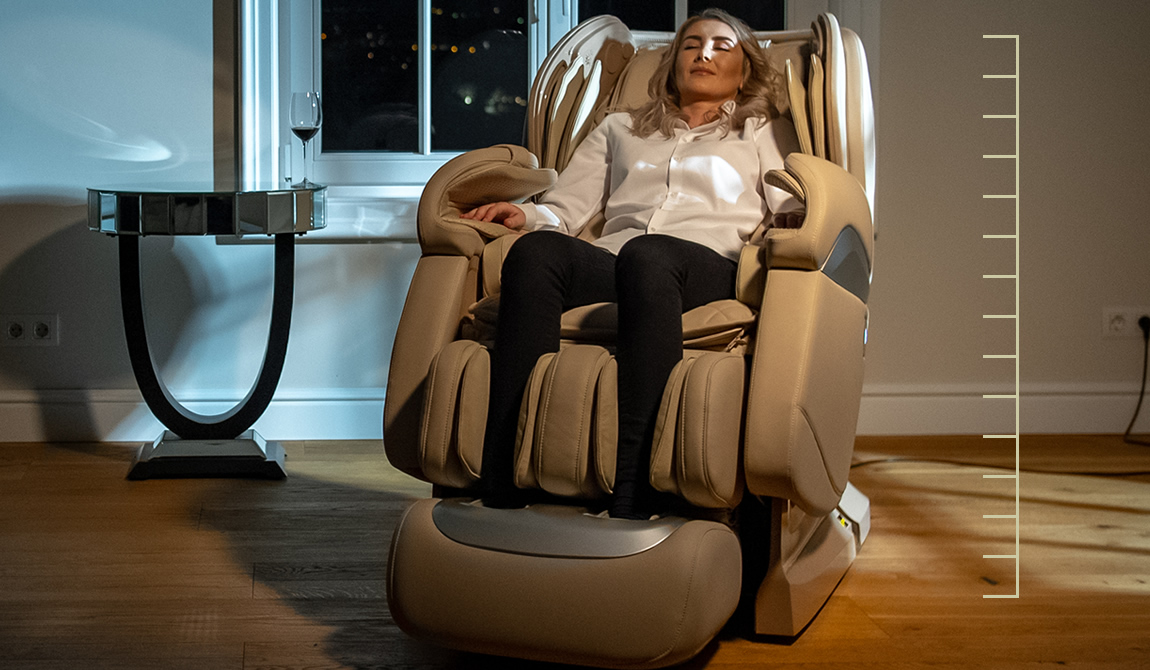 Automatic footrest. Great function for tall users
The footrest of LUXURY is updated. It features a brand new design that's intended to help tall users achieve greater comfort, accommodating users by up to 17 extra cms. This makes the Komoder LUXURY a great massage chair for tall users or anyone who needs a little extra leg room.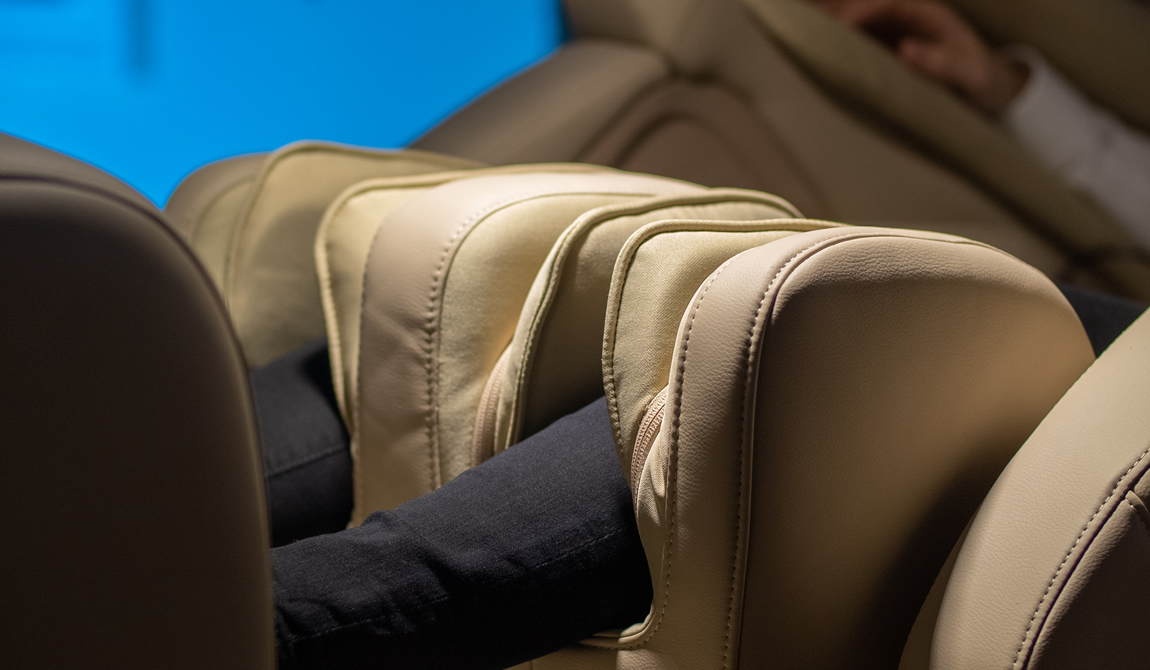 Do you have muscle pain? The chair treats contractions
Stretching of the arms, back, and legs is recommended in order to activate bone regeneration, and relieve muscle tension and contractions. This stretching is achieved with the aid of massage cushions for the shoulders, arms, and legs.
The Komoder LUXURY massage chair is designed for different types of users, and it has innovative auto massage programs which provide an individual massage that meets a variety of expectations.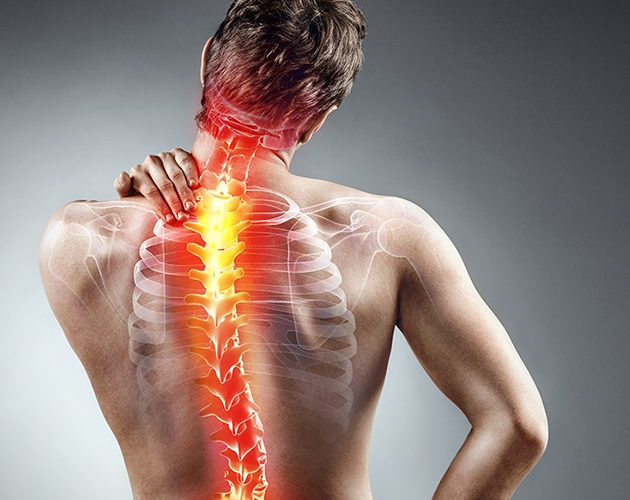 Are you suffering from lumbar or cervical pain or exhaustion?
Thanks to its new stretching function, LUXURY is the perfect solution for any type of user suffering from lumbar or cervical pain or even insomnia caused by stress or exhaustion.
It's time for you to use a massage chair
Thanks to its body detection technology, it detects the acupoints on your body according to the physical characteristics of your body. Thus, LUXURY massage chair can detect the neck, shoulders, back, waist, and buttocks to provide a deeper massage and a highly accurate fixed point massage for users of different heights.
Regardless of which of the 6 categories you fall into, it is time you used the LUXURY massage chair at home or at the office.
Bluetooth Speakers. No more wires
Luxury 4D gives you the posibility to connect to a bluetooth device, in order to play music. The massage chair has 4 integrated speakers, offering a power output of 10W each.
The speakers are built into the headrest of the chair creating a surround-sound effect with the music of your choice. LUXURY utilizes Bluetooth technology to connect your smartphone, tablet, or MP3 player to the chair. Your music selections are controlled directly from your device making for easy song selection that you're already used to.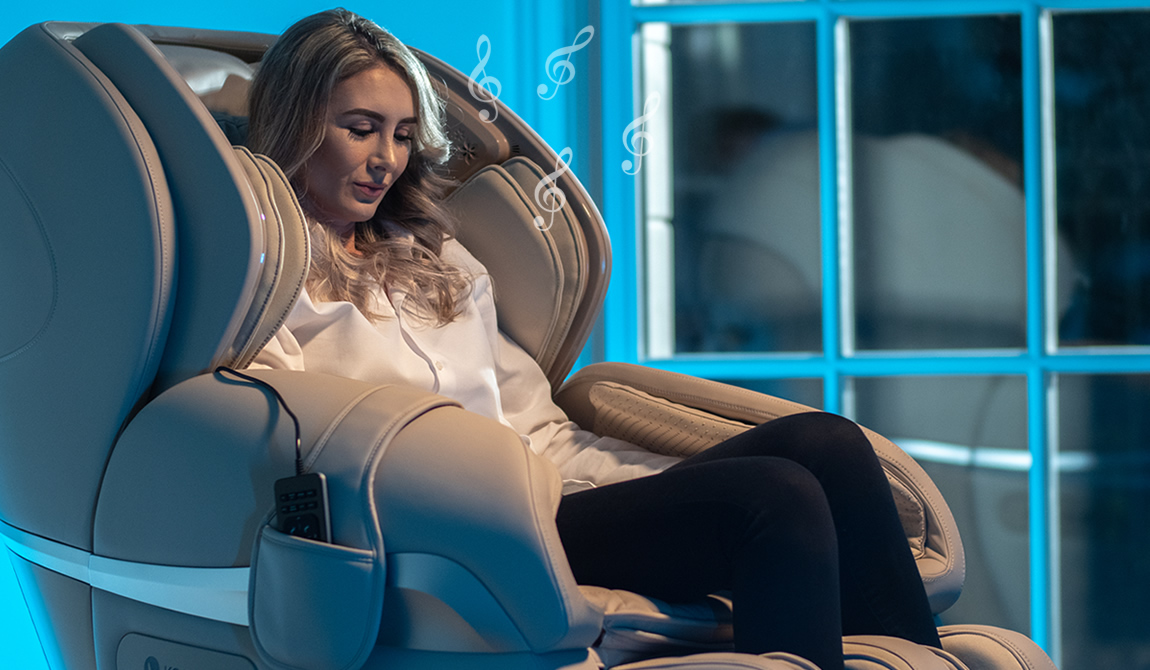 Massage system with 8 ceramic heated massage rollers
LUXURY's massage chair uses a highly advanced massage technology with heating and 8 rollers: the user enjoys an overall heating of the body while the rollers massage the shoulders, back, waist, and buttocks. In conjunction with the foot heating function, this creates a unique heating system.
Thanks to this technology, the blood circulation is improved and fatigue is effectively ameliorated, which results in a greatly improved massage effect.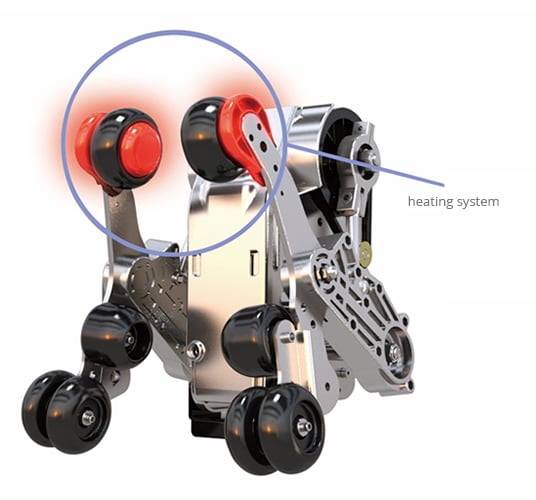 LUXURY's massage chair is your home therapist
The smart massage hands continually collect data regarding the curvature of the back, emulating massage techniques used by professional massage therapists, to provide you with a multidimensional massage.
Massage rollers like the hands of a massage therapist
The massage rollers can perform the following types of massage: kneading, squeezing, flapping, pushing, pressing, gripping, swaying, and twisting. You can access any of these methods whenever you wish.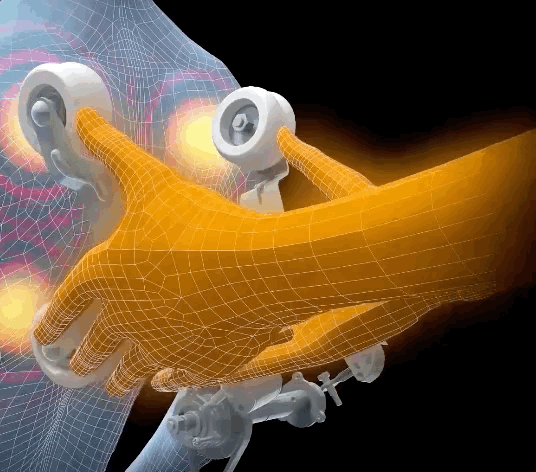 Specifications and Features
| | |
| --- | --- |
| Voice control | Yes, for programs change |
| Remote pocket | Yes |
| Timers | 5/10/15/20/25/30 minutes |
| Upright size | 160 x 82 x 127 cm |
| Reclined size | 190 x 82 x 92 cm |
| Net weight | 159 kg |
| Shoulder airbags | Yes |
| Back airbags | Yes |
| Waist airbags | Yes |
| Seat airbags | Yes |
| Arm airbags | Yes |
| Calf airbags | Yes |
| Foot airbags | Yes |
| Forward sliding | 30 cm |
| Rated Voltage | 220 - 230V |
I will recommend you
- from
Mr. Florin / Thun
Thank you for the confirmation. I will pay the difference, no problem. And you can be sure that I will recommend you, your company and your product. I am very happy!
I am pleased!
- from
C.C. / Denmark
Happy New Year! Wishing you good health, happiness, and success in the coming year and always. This is a very good massage chair. I am pleased.
Congratulations
- from
Mehdi Othmani / Budapest
I bought my chair last year and I was particularly pleased with their services, delivery and installation. Few weeks later, I accidentally broke the switcher of the chair when cleaning my house, I called Komoder and they sent immediately a technician who replaced the switcher at no cost.
Absolutely fantastic
- from
Zayna / Luxembourg
What I can say !! Absolutely fantastic chair massager, very comfortable . WOW ♡♡ I love it . Already I used it for 20 minutes oh what the great feeling and specially for my leg really need it . ♡ Thank you for your help and your advice .
This is THE massage chair - no joke
- from
Kevin / London
Very strong full body massage chair. Love the calves massage technique and also the stretching program.
Top Class, thank you!
- from
Christos I. / Greece
Hello Jonathan... just had my first massage! I have to say it exceeded my expectations! Also I want to congratulate you and the delivery guy for exceptional customer service!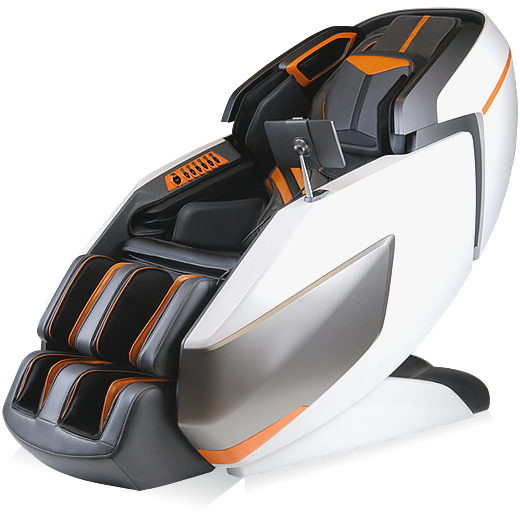 Ultra-high-end KOMODER PRIME Massage Chair, latest massage technology, double 3D massage robot mechanism, 6 massage rollers, dual SL extra-long rails.